Onyango Oloo Calls on Mirugi Kariuki To ARREST Anti-Muslim Far Right Christian Bigots....

"Une Seule Nuit" ("One Single Night") is the national anthem of


Burkina Faso written by Thomas Sankara- adopted in 1984.
French lyrics
Contre la férule humiliante il y a déjà mille ans,
La rapacité venue de loin les asservir il y a cent ans.
Contre la cynique malice métamorphosée
En néocolonialisme et ses petits servants locaux
Beaucoup flanchèrent et certains résistèrent.
Mais les échecs, les succès, la sueur, le sang
Ont fortifié notre peuple courageux et fertilisé sa lutte héroïque.
CHORUS:
Et une seule nuit a rassemblée en elle
L'histoire de tout un peuple.
Et une seule nuit a déclenché sa marche triomphale
Vers l'horizon du bonheur.
Une seule nuit a réconcilié notre peuple
Avec tous les peuples du monde,
A la conquête de la liberté et du progrès
La patrie ou la mort, nous vaincrons.
Nourris à la source vive de la Révolution.
Les engagés volontaires de la liberté et de la paix
Dans l'énergie nocturne et salutaire du 4 août
N'avaient pas que les armes à la main, mais aussi et surtout
La flamme au coeur pour légitimement libérer
Le Faso à jamais des fers de tous ceux qui
Çà et, là en poluaient l'âme sacrée de l'indépendance, de la souveraineté.
CHORUS
Et séant désormais en sa dignité recouvrée
L'amour et l'honneur en partage avec l'humanité,
Le peuple du Burkina chante un hymne à la victoire,
A la gloire du travail libérateur, émancipateur.
A bas l'explotation de l'homme par l'homme!
Hé en avant pour le bonheur de tout homme,
Par tous les hommes aujourd'hui et demain, par tous les hommes ici et pour toujours!
CHORUS
Révolution populaire notre sève nourricière.
Maternité immortelle du progrès à visage d'homme.
Foyer éternel de démocratie consensuelle,
Où enfin l'identité nationale a droit de cité,
Où pour toujours l'injustice perd ses quartiers,
Et où, des mains des bâtisseurs d'un monde radieux
Mûrissent partout les moissons de væux patriotiques, brillent les soleils infins de joie.
CHORUS
English translation
Against the humiliating bondage of a thousand years
Rapacity came from afar to subjugate them for a hundred years.
Against the cynical malice in the shape
Of neo-colonialism and its petty local servants.
Many gave in and certain others resisted.
But the frustrations, the successes, the sweat, the blood
Have fortified our courageous people and fertilized its heroic struggle.
CHORUS:
And one single night has drawn together
The history of an entire people,
And one single night has launched its triumphal march.
Towards the horizon of good fortune.
One single night has brought together our people
With all the peoples of the World,
In the acquisition of liberty and progress.
Motherland or death, we shall conquer.
Nourished in the lively source of the Revolution,
The volunteers for liberty and peace
With their nocturnal and beneficial energies of the 4th of August
Had not only hand arms, but also and above all
The flame in their hearts lawfully to free
Faso forever from the fetters of those who
Here and there were polluting the sacred soul of independence and sovereignty.
CHORUS
And seated henceforth in rediscovered dignity,
Love and honour partnered with humanity,
The people of Burkina sing a victory hymn
To the glory of the work of liberation and emancipation.
Down with exploitation of man by man!
Forward for the good of every man
By all men of today and tomorrow, by every man here and always!
CHORUS
Popular revolution our nourishing sap.
Undying motherhood of progress in the face of man.
Eternal hearth of agreed democracy,
Where at last national identity has the right of freedom.
Where injustice has lost its place forever,
And where from the hands of builders of a glorious world
Everywhere the harvests of patriotic vows ripen and suns of boundless joy shine.
CHORUS
The
late Captain Thomas Sankara
It has been interesting browsing through some of the Kenyan discussion groups.
One of the strangest arguments from the "YES" side has been the notion that the

Wako/Kathurima/Kiraitu/Kibaki

Draft is deemed to be an improvement on the current constitution. If you are coughing blood and phlegm in the

Intensive Care Unit

of the
Kenyatta National Hospital
, you are of course in a much better position than a decaying corpse over at the
Nairobi City Mortuary
. A person who scores a string of
Cs
in a test has of course done much better than someone with straight
Fs
.
But has
mediocrity
and vapidity and straight up wishy washiness been established as our new national benchmarks for constitutional excellence?
Yes, I nod my head when I hear
Eric Anderson
say,
"
The most insidious influence on the young is not violence, drugs, tobacco, drink or sexual perversion, but our pursuit of the trivial and our tolerance of the third rate.

"

The notion that a dubious tract spawned in stealth, duplicity and deceit is worth voting "YES" for merely because "it is not that bad" is just completely wacked out and sappy.

It has been slightly disheartening to observe some overseas based Kenyan pundits who only yesterday excrociated mainstream politicians for not being resolute enough in fighting for a democratic Katiba trashing patriotic Kenyans who insist on a people-driven constititution making process as "professional activists". This appellation is not that different from the

"wachache wasiotosheka

" labels that the court poets of the KANU era used to fling at an earlier edition of the same noxious rabble stirrers...

Here for example is one part of a raucous exchange from the Africa-Oped forum from Friday, August 26, 2005:
Oloo,

You seen professional activists and can identify them when the stakes change; they can be discerned from their behaviour when a "bone is dangled in their faces"! And they jump for the bone and care less about their previous positions! And for some it is simple: many depend
on noises to generate support from like-minded activists out of the country. Some organizations in Kenya, many in the NGO movement, rely on continued activism for financial survival!

I have watched the political scene long enough to realize that so called patriots are idealized and there are very few of them! In our Kenya, perhaps there is none! Just look at the manner in which Kenyans have been betrayed since independence, through the days of Onyatto,
through Moi's dark days and now. Count which people have been consistent and they possibly be not more than the number of fingers on a person's hand - Bildad Kaggia comes to mind! However, not many Kenyans want to die the way Kaggia died - poor and destitute!

So when I hear people talk of Wanjiku, it begs askance!

The fact is, if we had statesmen in leadership, things would still be ok even in under the current constitution. In many cases, what a political office becomes depends on the occupier and his/her priorities, including the kind of person and the underlying drive for power! Greed happens to be a key underlying drive for power!

In any case, we have seen strongmen get to power rewrite the constitution to their own liking! Just watch what Museveni is doing or what Hugo Chavez did when he came to power! And these people have done admirable stuff! Museveni's true colours are now on display as he guns for yet another term - unconstitutional as that may be! In Kenya, at least Moi left, despite poor democratic legacy he left behind!



Matunda Nyanchama responding to Onyango Oloo:



Who Are These "Professional Activists Bwana Matunda?


Are you perhaps referring to those Kenyan patriots who are still not

ashamed of being identified as standing up for human rights, social




justice and equality?





Or are you referring to those Kenyans who are today reminding the

Kibakis, Kiraitus, Nyachaes and Kivutha Kibwana that they are (the NAK gang is today) denouncing the things they used to support and supporting the things they used to denounce?





Are you perchance referring to those Kenyans who still refuse to cut

their conscience to suit this year's political whims?





Mr. Matunda, you are being slightly disingenous when you say that

specific people must actually sit down and come up with the the draft.





In my opinion, when we talk of "writing" the constitution we are

perhaps more concerned with the process rather than the mechanics. No

amount of sneering at the Orina Nyamwamus of this world will brush

away a stubborn fact- the very pro-Wanjiku "reformists" of yesteryear who spoke of a parliamentary system and devolution of powers are today bad

mouthing their own presentations to the CKRC.





Who were these people who were eating at Bomas?





Are you thninking of folks like Odenda Lumumba, Muthoni Wanyeki and

Willy Mutunga?





What is somebody like Mwandawiro Mghanga to say when they read

statements from folks like you making all kinds of outlandish

statements on the internet?




In a perverse way, it is amusing to watch the

NAK-FORD-People Kibaki-Nyachae

apologists and propagandists rooting for the Wako-Kathurima Concoction striving to survive by living and reliving the mantra of

Hata Mkia wa Ngombe ni Nyama

that they used to recycle with such delirious derision just the other calendar.

Millions of

democratic- minded Kenyans

rallied around then opposition leader

Mwai Kibaki
and his Unbwogable Team, not necessarily because they were unaware of their severe ideological limitations, but more because there was a national consensus that since




Daniel arap Moi

and his

KANU

cronies blocked the path to a new constitutional dispensation, the elevation to political office of presumed "reformers" would set the stage for what we socialists called "MINIMUM DEMOCRATIC REFORMS"- coming up with a KATIBA was NOT going to be this tumultous revolutionary upheaval- if anything it was slated to a pretty dull and routine affair as we wrapped up the mundane business of formulating, ratifying and adopting the supreme law of the land. That is why some of us held our noses when we looked the 2002 electoral lineup from the national to the regional to the local- at one point TWO of my former jailers (former Kamiti Commandant SSP Charles Shikanga in

Shinyalu

for

KANU

and Head of Kamiti Security SP Robert Matano Leakono in Samburu West for NARC) were angling to be elected to parliament on a reform ticket as

NARC

candidates- and they were in good company given the crooks crowding that rickety political

matatu

.
Over the last two and a half years we have not only witnessed but chronicled and critiqued the obscenity which followed as the
Kibakis, Kiraitus and Kibwanas
retreated from their liberal democratic presentations to the
CKRC
.
When one studies the chronic constitutional impasse in
Kenya
, one is struck anew by the historical parallels between a people's pent up frustrations in seeking democratic reforms and the evolution of revolutionary strivings to achieve and complete those national political and democratic tasks that venal politicians stifle when they have a chance.
What were the root causes of the
1974 Ethiopian Revolution?
Guess what triggered
the 1979 Grenada Revolution?
Why did left wing Portuguese officers carry out the
1974 Carnation Revolution?
Ever wondered who planted the seeds of the
1979 Sandinista Revolution?
To what extent did a civilian despot contribute to the
Yoweri Museven
i-led
NRA insurgency in neighbouring Uganda in the early 1980s?
How about
Captain Sankara's rise to power?
What I am saying is very simple:
There is a DIRECT correlation between the failure of peaceful constitutional reforms and the the development of revolutionary situations. This is not advanced post-doctoral molecular orbital theory you know. This is standard three common sense. I am not an
oracle
with cryptic
pronunciamentos
-more like a simple bell-ringer who punctually
pigas
the
keng'ele
for whoever with the
masikio
to
sikiliza....

By the way, I looked at some of the
stories
and
pictures in Saturday's (
August 27, 2005
) papers
with considerable interest.
In about three months, the
Mwai Kibaki
regime is finally going to implode in some form. There are two possibilities.
One scenario
may resemble a nasty snippet from
Albert Anastasia's
life.
The other scenario may simply look like the pictures below: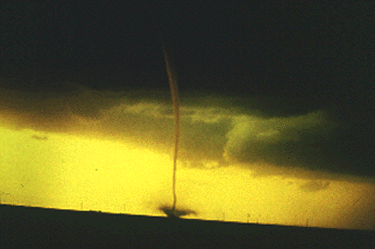 Incidentally, a few hours ago, I was held up for about seven minutes as my

mbavu

was bing

vunjwad

by






Beth Mugo'

s gelastic knee-slapper as she auditioned for a walk on "anti-imperialist" part railing against

Raila

for allegedly carrying the water for the unipolar superpower- based on the

Daily Nation's

coverage of an alleged anti-

Kibaki Katiba

strategy session taking place at the US envoy's residence in Nairobi. Not too long ago Otsieno Namwaya detailed in the public domain that

"
...Others are 50, 000 acres in Taita that is currently under Mrs Beth Mugo, an Assistant minister of Education and niece of the first President, 29, 000 acres in Kahawa Sukari along the Nairobi—Thika highway, the 10, 000 acre Gichea Farm in Gatundu, 5, 000 acres in Thika, 9,000 acres in Kasarani and the 5, 000-acre Muthaita Farm. These are beside others such as Brookside Farm, Green Lee Estate, Njagu Farm in Juja, a quarry in Dandora in Nairobi and a 10, 000-acre ranch in Naivasha..."


According to
Coast Express
reporter Pascal Mwadambo

, Beth Mugo is a notoriously inept employer who owns the Taita-Taveta-based Aqua Mines which treats its workers very shoddily.

Check out this piece by

Saad S.Yahya

about who owns the

Mkoa wa Pwani

and tell me if you can detect





Beth Mugo's

finger prints anywhere....



Jomo Kenyatta'

s niece and

Uhuru'

s cousin is the second richest woman in

Kenya

- after her aunt,

Mama Ngina Kenyatta

is way up there among the top comprador-bourgeois collaborators with the forces of international finance capital. She has business interests which tie her very closely to the

United States

, the

United Kingdom

and today she is more militant and "anti-imperialist" than

Che Guevara's

Bolivian comrade Tania?

Maajabu za dunia!!




Having dispensed with all these pesky preliminaries, let me NOW delve into the real reason why I started composing this digital earlier today.



I want to talk about Christians and the vile and ferocious far right ideological rampage against members of the Kenyan Muslim community.




(
National Muslim Council of Kenya chairperson Nazlin Omar Rajput (left) addresses journalists at the council's Coast offices. She said Muslims would vote "No" at the constitutional referendum. With her is Farida Rashid, the Coast vice-chairperson. Pic by Andrew Kilonzi)

First of all, let me thank

"Ndugu DSK" of Nairobi

for forwarding me that

Power Point

presentation entitled


Kadhi's Courts and The Islamic Agenda

, presented by

The Kenya Church Task Force.

A few months ago, I did a piece on the notorious

Rwandese

war criminal

Leon Mugesera

who has been hiding in

Quebec City

, a fugitive sought by the

Kigali

authorities for his infamous

November 1992

hate speech which directly exhorted the

Hutus

to slaughter the Tutsis "cockroaches."

You know what,

Dear KDP

blog readers, the contents of the Kenya Church Power Point presentation is WORSE, more vile, more hateful.

That is why TODAY I am DIRECTLY appealing to

Mirugi Kariuki

to intervene directly in his capacity as an assitant minister in charge of Internal Security and a former political prisoner and Nyayo House survivor to investigate, arrest, prosecute and imprison after a fair and open trial these

DERANGED RELIGIOUS CHRISTIAN BIGOTS

who are obviously working in tandem with the fascist Islamophobic agendas of

Pat

'Thou Shalt Kill Chavez"

Robertson

and that

American Taliban

motormouth,

Jerry Falwell

and other sections of the far right Christian fundamentalist movement in the

United States

.

These so called

Christians

have nothing in common with the

Christianity

that millions of Kenyans have grown up with. Like I have detailed in NUMEROUS digital essays, I grew up in a staunchly

Christian

family in the very

Muslim

city of

Mombasa

and I never encountered even one incident of religious animosty from either the

Christians

or the

Muslims

.


In my particular case, I have pointed out to my Christian friends that I grew up as a Christian and have too many connections with sincere Christians to "hate" Christianity- my mother was Born Again, so is my fiancée. For a more detailed exposition of my attitude towards Christianity see my 2004 essay titled
Oloo's Rhumba With Christianity.
In Kenyan online circles, I have been among the most VOCAL DEFENDERS of Muslims and their rights as you can see from this essay posted at Mashada called
Let Us Listen to Our Muslim Brothers and Sisters
; this
radio documentary on the oppresion of Muslims in Kenya
;this
rejoinder to Guardian(UK) columnist Polly Toynbee on Islamophobia and the Left
; a sharp riposte on Mambogani decrying
Another Day, Another Deranged Attack on Kenyan Muslims
.

But who are these weird, dangerous and quite frankly frightening fear mongers who are bombarding probably hundreds of thousands of

Kenyan Christians

with vile and untrue hate speech against

Kenyan Muslims?



Now I am of course firmly in NO camp when it comes to the upcoming constitutional referendum.

But today, I want to make it perfectly CLEAR that I see NOTHING in common between where I am coming from and the hate filled opposition that is properly some of these

Christians

to say they are going to vote No.

I am aware that there are millions of

Christians

who are going to vote NO BECAUSE they SUPPORT the

Bomas Draft

. The

Christians

I am talking about as being scary, unhinged and sketchy are those who oppose the Wako Draft because it still retains a clause allowing for

Kadhi's Courts

.

It is SHAMEFUL and DESPICABLE that religious leaders who claim to follow a humble thirty something bachelor who used to hang out with hookers, adulterers, sinners and outcasts are today using the Bible to launch a 21st Century Conceived in America, Born in Kenya Islamophobic CRUSADE that will only GUARANTEE greater national insecurity and may even plunge the country into a full-scale bloodbath.

Everywhere I look, I am hard pressed to see a politician with clean hands. The country's

President, his First Lady and the Vice President

are rabid

Catholics

who recently thought it was more important to attend the mass for a slain foreign priest rather than visit with indigenous pastoral northern Kenyans traumatized by inter-communal politically motivated carnage. Our

Health Minister, Charity Ngilu

, and her Kituyi rival,

Kalonzo Musyoka

tout their

Christian

and even

Born Again

credentials.There are MPs in parliament who are practising

Christian

clergy personnel. Our Attorney General is a confirmed pro-lifer-and all versions of our various constitutional drafts seem to have no problems with an

Operation Rescue

clause being built into our supreme document from the get go.

Archbishop Ndingi Mwana a Nzek

i who showed us his fascist Kenyan Inquisitor side during the whole fetal controversy of 2004 is one of

President Kibaki's

most trusted confidants.

When I say fight the

Christian Agenda against Kenyan Muslims

, I am almost dispirited because I can see that

the Christian Right in Kenya has already succeeded in their coup de tat against a secular state.



It is for this reason that I count their NO vote as a spoilt vote. They should remain honest and stick to their fellow ideological birds of a feather...

The other reason why I am appealing to

Mirugi Kariuki

is because he was recently among Kenyan parliamentarians who visited the genocide sites of

Rwanda

. During the visit,

Mirugi

pledged to the Rwandese people that NARC would extradite, back to

Kigali

any one suspected of being a suspect in a genocide case. Well, I will start getting excited when

Ouko

and

Mbai's

killers are brought to book.

My suggestion to

Waziri Msaidizi Mirugi Kariuki

:

Why don't you start with the

Kenyan Christian Terrorists

who are operating in plain sight?

Now I am sure that a big chunk of my readers thinks that this is it:

Oloo has FINALLY POTEZAD his AKILI!

Not so my friends, not so.

In fact, I am going to let the

Power Point

presentation work for me. Here is the "evidence" of what I am talking about in a series of JPEGS I made of a specific presentation that was sent to me at least a few weeks old.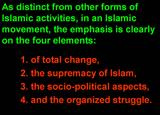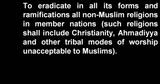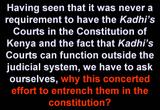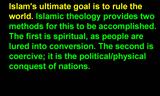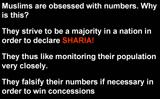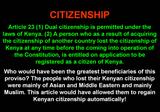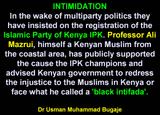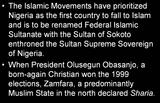 Please study those slides. Anyone who wants the actual

PPT file

can download from this Siasa-Kenya location...



Onyango Oloo




Montreal



*****************************************************************
POST SCRIPT
I received the following email as a much forwarded FW forward on Saturday(August 27, 2005) afternoon:
-----Original Message-----
From: Raphael (Last Name Withheld)
Sent: Friday, August 26, 2005 3:15 AM
To:Recipient list Suppressed
Subject: REFERUNDUM
Yesu atukuzwe.
I trust all are responsible citizens. If for any reason you've never voted in the past, this time round do not allow every other Tom and Harry to decide for you. I trust I will get a soft copy of the constitution later today. I will forward to you. Meanwhile look at the highlights attached below.
Baraka
Raphael
Hallo. What you are about to read is the TRUTH, the WHOLE TRUTH and nothing but the TRUTH. That is what HOPE FM advocates for. THE TRUTH. The new draft constitution bill is out and WE KNOW THAT YOU HAVE READ IT. If not, please do. There will be an exam, so be well read. We are not in anyway creators of enmity between religions. But we love it when you are equipped with knowledge. "My people perish from____________", jaza pengo (fill in the blank). Alright, once you are done reading the document address all your questions to the contacts below. It is time to READ and UNDERSTAND.
Ps….should this email be making it's way into your box without your express permission, kindly inform us. We apologise should this happen and we will take you off the list.
Baraka
As always
Tina Nzuki
The real Kenyan
The Referendum
What is a Referendum?
Referring back to the people a document for their opinion. In this case the Draft constitution.
What is expected of you?
To vote Yes or No to the whole document. It will not be on an article-by-article basis.
Non Muslims how does the document affect you?
Qualification of Bill of Rights on the basis of Religion, which means that eventually other fundamental rights, will be effected e.g.:
1.Freedom of worship-Islam is an intolerant religion and aims at total domination and extermination of non-Muslims
2.Freedom of expression: Islam is intolerant of expression witness the Fuatwas pronounced on writers such as Salman Rushidie.
3.Freedom of Assembly &Association: Will not allow non-Muslims equal rights and will severely restrict their rights.
4.Freedom of conscience-including freedom of thought and religion, to change religion or belief, to either alone or in community with others and both in public and private manifest& propagate his religion or belief in worship, teaching, practice & observance. The following are just a few examples of the breach of this fundamental right being practiced now even before this special exemption becomes law:
Koran does not allow change of religion. This is apostasy punishable by death. Muslims scurrilously twisting scripture to destabilize the weak and doubting Christian believers whilst demanding that non-Muslims must not handle or speak about the Koran.
Many incidents of Muslims burning churches on pretext that the preachers preached against them .
REMEMBER their protest against the prayer of Bishop Kihara on 9/8/01 though the prayer was his right of conscience.
DID you know that 'Keshas' have now been banned in Nairobi? This was carried by the papers on Tuesday 19th. Of July 2005.The ban has been issued by the Provincial Police Officer Nairobi on the grounds of insecurity.
5.Protection from inhuman and degrading treatment and from slavery; well-known fact that Muslims were slave traders and that in their culture and religion it is acceptable. Witness slavery in Sudan being practiced by Muslims against the blacks.
6.Provision of Education (Islamic Curricular)
7.Equal Treatment before the Law –they shall be exempt (a classic case of all animals are equal but some are more equal than others.)
8.Protection of Life; Muslims have already taken away innocent lives in their bombing of Nairobi Norfolk hotel and the USA embassy on 7/8/98,the bombing of paradise hotel, the blowing up of two policemen in Mombasa. REMEMBER it is legitimate to kill a non Muslim (and in Darfur a Black Muslim)
9.Women have been asked to vote in large numbers in view of the affirmative action. However this exemption of Muslims from equality will mean that women will be subjugated. Literally this will be the last time they vote!
Kadhi's Courts - Did you know?
(i)Are not provided for in Koran.
(ii)They are found in 5 countries only in the world; Uganda, Nigeria, Kenya, Jordan and Pakistan.
(iii)The most populous Moslem country Indonesia does not have these courts (98% Muslim).
(iv)Ghana has Kadhi's courts outside the Constitution.
(v)Under the British the Kadhis not paid by the government maintained by their own co-religionists.
(vi)At independence 10 points agreed to between British/Zanzibar/Kenya about coastal strip. Only one finds it's way into Constitution the Kadhi's courts.
(vii)No definition made of what are personal laws in respect to Muslims.
(viii)At independence Kadhi's courts confined to "so called ten mile strip" which is an anomaly as Kenya is now a sovereign Republic. No remnant of Sultan's subjects.
(ix)Kadhi's courts Act passed in 1967 expands jurisdiction of Kadhi's to the rest of Kenya. Which was unconstitutional because Constitution did not allow this.
(x)In 1969 Constitution changed to allow Kadhi's courts throughout Kenya. The Amending Act "sneaked" in this change calling it a change of form not substance.
Kilifi document expands this by giving
(i)Equal standing of all laws to the Constitution and includes personal laws
(ii)Only personal law mentioned is Islamic personal law, which is administered by Kadhi's courts in effect, making their decision equal to the Constitution.
TRANSITIONAL PROVISIONS
Are totally inadequate and do not provide for a smooth transition
In effect the proclamation of the new Constitution on 12/12/05 will create a vacuum, as the present constitution will stand repealed; yet curiously the existing laws shall continue with modifications and adaptations and qualifications being made by an undisclosed authority.
Putting it simply the effect is similar to the millennium Bug there will be a crash before new laws are enacted 1-5 years down the road. Presumably the president having begun by proclaiming the Constitution shall continue ruling by proclamations to fill in the void.
This will be necessary, as the provincial administration will be dissolved on 12/12/02 thus creating a vacuum in security, which will take time to fill.
The Local councillors will be in a precarious situation before elections are held.
The other issue is that the president holds office for five years from the date of assumption of office. The date of assumption of office under the new constitution is not stated; instead it says that the president shall continue in office until the first elections are held under the new constituion. The necessary implication is that the president begins his term of office from 13/12/2005 to 12/12/2010!
As for the MP's they are to continue in office for the unexpired term presumably to 2007 yet the wording of the article is such that the M.P.'s can argue that their unexpired term starts running from 13/12/2005 to 12/12/2010!Kenyans cherished dream of revenging on their MP's will be cruelly vanquished.
In the judiciary shall be upon a constituting of a Judicial Service Commission embark on a full scale house cleaning which will effectively paralyse delivery of services. Finally when the services resume the laws shall be different .In effect all cases pending shall end up being an academic exercise.
Case in court
Preliminary objections raised by CKRC on 3 points:
1.Jurisdiction – High Court cannot remove a section of the Constitution
2.Lack of cause of Action – there is no substance in our complaint
3.Justifiability – the court cannot examine the document until it is passed as law.
Church's Response
(i)S.66. in the current Constitution is unconstitutional ,offends the separation of church and state and also democratic principle,
(ii)The inclusion of Kadhi's court discriminatory treatment of different faiths
a.Kadhi's public officers yet Constitution prohibits the appointment of officers purely on the basis of creed.
(iii)The 1969 "Constitutional" amendment tries to cure the unconstitutional of the 1967 Kadhi's Courts Act.
(iv)1982, 1986 Kadhi's increased to 8 currently they are 16. Bomas increases them to 40.
(v)Kadhis courts were to determine questions of Muslim law relating to personal status, marriage, divorce or inheritance in proceedings in which all the parties profess the Muslim religion.
(vi)1977? Succession law passed applicable to all Kenyans. Muslims rose up in arms and had themselves excluded from its operation.
(vii)Constitution Review begins CKRC gives questionnaires (biased) on Kadhi's courts.
(viii)Response questionnaires Katiba very poor and yet CKRC produces document giving great powers to Kadhi's courts.
(ix)2004 Bomas draft – scales down Kadhi's courts but does not touch exemption from bill of rights; irrespective of the fact that there is separation of state and religion and no religion shall be treated superior to another and the forbidding of employment on basis of faith (b) Public officers paid by tax payers to render service yet can only render Muslims who are only 6% of the population of Kenya – Even if courts are currently short staffed Kadhi's cannot step in to help move cases.
(c) Kadhi's as public officers propagate public policy which means Government's policy is to Islamise Kenya.
(x)The document is comprehensive, clear and legal. Does not require to be passed into law for the court to look into it. It is already unconstitutional.
(xi)Ringera's ruling has looked into this document and stated that parliament cannot bring in a completely new Constitution; it can only amend the existing one.
STATUS OF CASE
On 19 & 20.7.05 – Court adjourned case on basis that one judge sitting in a Criminal Appeal. The Judge is expected to be available in November. Case is expected to continue on 14, 15 and 16th of November. The referendum is on 22/11/05.
These are only pre-elminiary steps the case itself is yet to begin.
Note the referendum is in the following week.
KENYANS MUST GIRD UP THEIR LOINS TO:
Watch - Acquaint yourself with the Bomas draft.
Prepare to vote 'NO' because the voting is on the whole document.
REMEMBER that even though the Referendum is not provided for in the constitution you still must vote because:
a)You are being asked to overthrow the constitutionally elected Government with your vote.
b)The propagators of the constitution are counting on your apathy and ignorance to push through their agenda
REMEMBER the Constitution will be passed by simple majority i.e. 5 Kenyan's voting will be sufficient to bring in the new " Constitution."
To challenge the results of the referendum you will have to deposit five million shillings with the court before your case can be heard. If you do not have the money the case shall be dismissed.
A countdown campaign
Speak on issues during services
Put information on service sheets.
Buy faith oriented papers and other non-partisan papers since the leading daily has maintained a blanket silence on the churches protest.
Listen and watch faith oriented media and other non-partisan media since the leading media houses have maintained a blanket silence on the churches protest.
Station a prominent countdown calendar in every church
Make calls to all radio stations requesting for programmes to give unbiased civic education
Turn out in large numbers for the voting
Spread the news – speak to at least 2 people everyday to vote NO!
Form observer groups
Seek to be deployed as election officials
Provide correct civic education
AND PRAY
Form a prayer chain
Pray every day at least for a moment
Give of your time, skills, energy and finances
Contact Kenya Church for more information
The Kenya Church
P.O.Box 10445 00100
NAIROBI.
Tel: 2730103
Mobile 0721-358496,0733-710770