In the long litany of
Kibaki-NARC
betrayals, about turns, broken promises, convenient political amnesia and abrogation of pre-election pledges and complete disregard for written agreements and signed political pacts, nothing sticks in the craw of former Kenyan political prisoners and detainees as the cynical abandonment of one of the key planks in the NARC manifesto:
The setting up of a
Truth, Justice and Reconciliation Commission
to investigate past historical injustices, state atrocities, human rights abuses and other outrages committed against the Kenyan people by
KANU
era fat cats like
Daniel arap Moi, Nicholas Biwott, Hezekiah Oyugi, George Saitoti
and their loyal underlings like
James Opiyo, Petkay Miriti,Mjomba
and other torturers of the Special Branch and other branches of Kenya's secret security forces.
Many of us who knew the obvious ideological weaknesses and limitations of the heavyweights crowding what
Papa F
has called the "NARC Matatu" strategically supported the NARC team because we saw in its line-up such astute "reformers" like
Kiraitu Murungi, Raila Odinga, Kivutha Kibwana, Wangari Maathai, Mirugi Kariuki, Koigi wa Wamwere, Adhu Awiti
and many other human rights advocates and former political prisoners.
We were full of bliss when
Kiraitu Murungi
snagged the coveted
Justice
portfolio in the new Kibaki cabinet. I was personally thrilled to see my former lawyer in charge of the one docket that would virtually guarantee that the
Truth and Justice Commission
would be set up in a jiffy. When
Prof. Makau wa Mutua
- a former exile and respected human rights lawyer-was appointed to head the task force to look into the modalities of setting up such a commission, I was almost delirious with joy; when
Maina Kiai
became the head honcho of the
Kenya National Commission on Human Rights
with veteran comrades like
Tirop arap Kitur
and
Zarina Patel
populating its ranks many of walked around smiling very contentedly.
We jumped, feet first, into the national debate about how the new commission would look like. I remember
submitting a document directly to Kiraitu Murungi giving my thoughts on this subject
and when I was in Nairobi in September 2003,
Dr. Willy Mutunga
told me that Kiraitu had actually read and commented favourably on the document.
Of course it was around this time that the fall out from
NAK
reneging on its power sharing
MOU
with
LDP
hit the headlines and many of us were impatient, not with
NAK
, but with
LDP
because we felt that they were consumed with power rather than focused on democratic reform.
Little did we know , back then, that the trashing of
LDP/NAK MOU
was but the earliest sign of the looming epidemic of flip flops, political amnesia and arrogant dismissal of the pre-election promises of the sneaky and absolutely spineless
DP dominated kitchen cabinet
roving around the so called 6 Ms-
Murungaru, Murungi, Michuki, Muthaura, Mwiraria, Mwai,Marete
and did someone include Muthoni at this point?
Many of us, in the early months of
2003
, adopted a cautiously hopeful wait- and -see attitude, excusing the tardiness of the NARC parvenu looters in the making by citing the survival of the old KANU dominated mandarins in the senior ranks of the civil service. It was just a matter of time, we deluded ourselves, making allowances for the sudden curbing of human rights enthusiasm after the teary visits to
Nyayo House
fronted by none other than the two NARC rivals-the former human rights lawyer,
Kiraitu Murungi
and the three time detainee,
Raila Odinga
.
By the end of 2003, beginning of 2004, any vestiges of hope still lingering about the setting up of this body had been completely dashed.
News reports from as far away as South Africa noted this bleak scenario
and on August 14, 2004,
Professor Makau wa Mutua
himself(and some of us had locked horns with him over his slavish defence of the Kibakites just months earlier) had had enough, incensed to the point of penning an incendiary critique of his former NAK allies as can be seen in this
no-holds barred, Boston Globe op-ed piece.
In meantime, the already existing task forces, commissions of inquiry and assorted NAK friendly sinecures were costing the overburdened Kenyan tax payers literally millions of shillings every month as can be gleaned from this
Standard investigation
.
By
2005
, the scales had fallen from all of our eyes. Well known Bomas delegate and civil society figure
Suba Churchill in his recent April 20 Opinion article bluntly stated as much
.
And the good folks over at
People Against Torture
were in no joking mood as they took their protest to the streets of Nairobi at the end of April.
And as if to rub the proverbial
chumvi
in the festering
kidonda
, the
Hon. Kiraitu Murungi came out the other day to declare that perhaps we did not need the Truth and Justice Commission after all!
And the Big Cheese HIMSELF,
Mtukufu Rais Emilio Mwai Kibaki
, taking the cue from his hard working ministers started sending feelers to one of Kenya's most notorious political thugs,
Nicholas Biwott
, that there would presumably soon be vacancies in the Kenya cabinet to accomodate Ouko's killers and the Goldenberg fraudsters.
Well, what should we do, we, the Kenyans who are still committed and focused on a social justice agenda?
What are we to do, we the Kenyans who still believe that the
Biwotts, the Saitotis, the Opiyos, the Mjombas and the Miritis
should PAY for their crimes against the Kenyan people?
What are the
Survivors of Nyayo House
to do?
What are the activists of
Release Political Prisoners, People Against Torture, Kenya Human Rights Commission
and the country's social justice community to do?
Should we tie a
lwanda
around our
shingos
and drown ourselves a few metres off the Mtongwe Ferry?
Should we drown our frustrations in gallons of potent
chang'aa
?
Should we look for a good
mganga
to cast a vicious spell on Kiraitu Murungi?
Our ideological foes on the Kenyan Right and the shameless Sell Outs in the Kibaki government can chortle, they can smirk, they can saunter, but they should remember that Kenyan activists, Kenyan torture survivors, Kenyan leftists, Kenyan human rights campaigners, Kenyan former political prisoners, Kenyan patriots,
consistent
Kenyan democrats are made of much stronger mettle than what our adversaries imagine.
We did not survive
Naivasha and King'ong'o, Kamiti and Kodiaga
to give up our ideals, our principles, our visions and our aspirations,
ati
just because the usual Kenyan opportunists have been joined by some of our former allies like
Mirugi Kariuki
, who is NOW the
naibu waziri
in charge of, get this,
INTERNAL SECURITY
-
but this is a man who is TODAY DEFENDING Nicholas Biwott as if Biwott is his blood brother, can you imagine the gall!
We will remain steadfast.
We expected the Kibakis to sell us out.
Still, some of us were eventually shocked that people like
Kiraitu Murungi
and
Mirugi Kariuki
(and he is a Nyayo House survivor to boot!) were the ones who were now leading the charge in this pornographic and obscene assault against a comprehensive human rights agenda for Kenyans.
Maajabu za Dunia!
Fortunately,
tumekataa, kata kata kujifungia chooni na kulia lia kama mafala, I say
.
There is an EMERGING should I bold enough to project, NATIONAL Across Kenya consensus that it is only until the sincere and consistent Kenyan human rights campaigners retake the initiative that will we see justice for the Nyayo House Survivors, that there will be some redress and closure for the veterans of Kamiti and Naivasha and perhaps provide an impetus for the eventual prosecution of the Biwotts, Saitotis, Opiyos and a whole bunch of newly qualified NARC contemporary insiders.
I want to use the rest of this essay to bring you the voices of the torture survivors, the faces of the human rights activists, the words of the Nyayo House residents and the sounds of the new Kenyan militant youth from the revolutionary underground hip hop groups like
Do Klan Revolution
and
Sinpare
.
So here goes....
First, let us read excerpts from a very timely compilation of the narratives and testimonies of the Nyayo House Survivors that can be found in the following book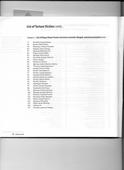 That was put together by a collective consisting of the hardworking comrades of
Citizens for Justice, Release Political Prisoners, People Against Torture
and other Kenyan based human rights groups.
Witness #1
:
Mariane Nyabola
, the mother of the late
Titus Adungosi
, Chairman of
SONU
:
Finally he was arrested in Nairobi. I did not know about his arrest. It was a teacher who heard Radio Tanzania, Dar es Salaam... that Tirus Adungosi had been arrested who informed me about it. Even after the arrest, the police continued visiting my home. One day I remember telling them if they were not satisfied with Titus's arrest, they should as well arrest me. I had become tired of constant police visits and harassment. The police, the government machinery and the prison authorities still have questions to answer regarding Adungosi's death in prison. For the family it was a terrible nightmare. During a visit in 1987, Titus told his brother that he was due for release in a month's time. He talked with him in Iteso though the prison warders told them not to converse in Iteso. He was in good health and did not show any signs of ill health. This was the last time a family member saw Titus alive. He had told his brother to make arrangements and have a house built for him in preparation for his release. This did not however happen. My son Titus died suddenly and mysteriously. After my son's death, nobody in the family knew that he had died until one month later when a certain KANU official gave us the news of his death. After the news of Titus' death, the village came to my home to get the true story of what had happened. They boycotted going to the market. They wanted to know the truth. After confirming that Titus had died, we made arrangements to go to Nairobi to collect the body. We raised six thousand shillings and started looking for the means of transporting the body of Titus home. The local vehicle owners however totally refused to release their vehicles. They said Titus had died a political prisoner and they did not want to be associated with politics. Later, we managed to get a vehicle from an Asian businessman who was Titus' friend. So we set off to Nairobi for the body of Titus. We first went to Naivasha where we were told that the body was at the City Mortuary. We proceeded to Nairobi and got Titus' body. It had decomposed. We took it and started the journey back home. On arriving home, we had another hurdle to overcome. No pastor was prepared to conduct a requiem service for a political rebel. We approached a few who turned down our request. Finally we managed to get a pastor called Benjamin. He told us he would conduct the service regardless of political consequences. During the burial, only people around here attended the burial. Many other people feared coming to the burial. Not even the students came.
Testimony #2: Veronica Wambui Nduthu, the mother of the late
Karimi Nduthu
, former
Secretary General of the Release Political Prisoners
:
Karimi and his friends went underground. The police however thought they had come home. The regular police and the C.I.D. kept on coming to our home. They came on several occasions hoping to find Karimi. Sometimes they would come at night and find us settled for supper. We would invite them to our meal, which they at times ate. There are also times when they would come here in great fury and turn everything upside down in their search for Karimi. They would crawl under the beds and search behind water pots in our home compound looking for possible hideouts where they thought Karimi might be hiding. We would not stop them from searching for Karimi, but we told them we were worried about whether Karimi was alive or not. They too told us that they were worried and that Karimi's safety was not only our concern but also theirs.
Witness #3:
Florence Nyaguthie Murage:
I was arrested on August 7, 1990 on allegations that I had in my possession a seditious document entitled Security Home Boys which I had never seen. I was arrested around 2.00 am by eight police officers from Lang'ata Police Station lef by one Inspector Christine. They carried out a search in my house and claimed to have found what they were looking for. They did not show me what they had uncovered. I was taken by Land Rover to Lang'ata Police Station from where I was taken to the 25th floor of Nyayo House for a six hour interrogation session and returned to Lang'ata Police Station where I was locked up for four days. My torture experience was mainly psychological especially the anxiety surrounding my arrest. The long interrogations were a source of great discomfort, especially when I was threatened with being in a cell with a snake. At another moment I was removed from Lang'ata Police Station and taken to my office where a three-hour search was conducted. At another time I was taken at night to my house for a shower with a police officer standing guard at the door. I remember the names of a Mr. Chelimo or Cheruiyot and a Mr. Wachira as some of the interrogating officers. Two weeks after my arrest I was taken to court and pleaded not guilty after which I was remanded in Lang'ata Women Prison. My lawyer, Musyoka Annan, applied for bail and I was released on a Shs 50,000 after two weeks in prison. I continued attending monthly court mentions for six months until the state entered a nolle prosequi on account of my pregnancy. I was held in isolation for the days I was in prison. I recall suffering in prison as I was forced to wear a lice infested uniform and walk barefoot. I had only one blanket which could not keep me warm. The prison food was also bad and my visitors were closely watched. I also faced a lot of hostility from the warders. The major effect of my experience is that my boyfriend abandoned me despite being pregnant. I have had to bring up our child alone...I also lost my friends who did not want to be associated with me. Some of my family members regarded me with a lot of suspicion and also shunned me for engaging in politics...
Testimony # 4:
Rael Kitur
,Tirop Kitur's
mother
:
They had arrested Tirop's wife, his father, Karimi's mother and father and were coming for me. One of them confronted me and hit me with a baton on my forehead. The scar occasioned by the blow is still visible to date. They took all of us to the police station in Nakuru. After staying for one week in the police cells, I was taken by the police to Ronda Estate in Nakuru where my sister was living. The police had told me that my son was there. When we arrived there, we did not find him so we went back to the station. Immediately after we had left my sister's house, the police closed in on Tirop and his friends at Gilgil where they were staying. He managed to escape and went to Ronda, the place we had visited with the police the previous day without getting him. It is here where Tirop was finally arrested. The the police came to us in the cells to inform us that our children had been arrested.
Witness # 5:
Wafula Buke
, former Chairperson SONU:
The prison uniform, popularly known as 'kunguru' was very demeaning and dehumanizing. One had to wear it without underpants. In most cases it was filthy, tattered and infested with lice. If one was lucky, you were given one blanket to shield you from the cold and cushion you from the cold cement floor. The food was badly cooked, dirty and monotonous. We had to contend with ugali, sukuma wiki and maharagwe for the entire length of the prison term. I developed a skin condition due to lack of vitamins. Cells were particularly crowded, sometimes six or seven prisoners would be crammed in five by eight feet room. We would all be forced to face one direction when sleeping and only turn in rhythm. Everyday we lived with the threat of contracting serious diseases. Occasionally we did. The skin disease was the most common.
Witness #6 Mtumishi Njeru Kathangu, former MP for Runyenjes and ex senior officer in the Kenya Army
:
Between the time of entering the cell there was nothing- no food, nobody talked to me. There was no need of a short call. I guess it was July 13(after two days) that someone came and opened the cell door. I was blindfolded and led to the lift. Nobody was talking to me all the time. I was taken upstairs. It was bright and sunny. There were about twelve men and a woman sitting in a horseshoe formation. I was seated in the middle of the room in front of them. They started throwing words wildly and at random. This was an uncoordinated way of interrogating people. One of the questions from Opiyo was 'Tell us General, were you the person to become chief of general staff in your government? George Anyona says that you were recruited specifically for that'. After those wild statements I got an opporuntity to speak. I told them I was surprised that the Kenya police did not appreciate how difficult it was to overthrow dictators. This was the first time I was slapped by someone from behind me. He asked, 'Who is a dictator here?' I didn't answer that. James Opiyo rose and walked to where I was sitting and pretended to slap me. I raised my hand to protect my face. The man behind me slapped me again. At that time Opiyo challenged me to stand and fight saying that if I could not fight I would be taken back to the cells. I stayed in the cells and I was not given any food. The following day I was taken back to the interrogation room and given some pieces of paper stating that we were going to overthrow the government. They asked me to comment on them.....
Testimony #7,
Prof. Edward Oyugi:
I was locked up without being entered in the occurence book at Muthangari police station. I was removed from the cells at night, blind folded and driven around the city. I was later taken to Nyayo House basement cells where for about two and half weeks I was subjected to inhuman and degrading torture. During that time I was put in a water-logged cell. Early one morning Opiyo paid me a visit to confirm whether I was still in the water. Opiyo was still in his pajamas and slippers. I got so annoyed and asked him, 'Have you come all the way from Lang'ata to enjoy my suffering instead of being in bed enjoying the warmth of your wife?' Opiyo was so stung and infuriated by apparent insolence that he picked one of his slippers and threw it at me.
Witness #8, Nganga Thiongo, human rights lawyer, Chairperson, Release Political Prisoners:
The hood was removed and there I was in a dark cell. The next morning I was put in a lift while blindfolded and upon landing several floors above I was taken into a room, put on a seat and there I found myself in front of nine mean-looking guys. 'Tell us about yourself, your friends and your involvement in the struggle' the interrogation began. Questions and more questions for hours without end were followed by beatings with slaps, kicks, whips, pieces of wood, and burning with cigarette ends. My screams did not help and as they continued brutalizing me, they were insisting that I confess all that I knew or they would kill me. After collapsing due to exhausion, I was returned to the basement cells. The guards were instructed to continue with the beatings. The beatings continued relentlessly and only the methods varied. One day, they would remove pistols and threaten to shoot me. There were screams from the neighbouring rooms with men screaming at the tops of their voices. I lost count of the days and time, whether it was day or night. It was a total nightmare. I ended up being taken before Chief Magistrate H.H. Buch who declined to take my plea as I was his student at the School of Law. A court was hurriedly convened under Mr. Joseph Mango and it was packed with the very people who had been torturing me. I was charged with neglecting to prevent the commission of a felony contrary to Section 392 of the penal code. I told the magistrate that I had undergone a harrowing experience in police custody where upon he said he would first enter a plea of guilty and then hear the details. The then deputy public prosecutor Benard Chunga rose and read a six-page statement on my alleged activities to overthrow the government. Without asking any question, the magistrate wrote that the facts were true and correct. He then wrote mitigation on my behalf and sentenced me to fifteen months imprisonment.
We will update these testimonies from
We Lived to Tell: The Nyayo House Story
, the next time we revise this blog, which is in a few hours(yes, even Onyango Oloo sleeps from time to time!)
In the meantime, tune in to
this special edition of the DUNIA show
where I focused on reviewing the book. Listen in for a wonderful interview conducted in Nairobi with
Wahu Kaara
, one of the leading lights of
Katiba Watch.
One of the frequent contributors to the
Kenya Democracy Project
blog
is the very familiar
Adongo Ogony
who served not one, but TWO stints undergoing the horrendous treatment at the hands of the Opiyos- first in 1982, after the abortive coup, and then again in 1986 during the infamous
Mwakenya Crackdown
. I interviewed Adongo in Toronto in March 2003. Here is the
link to that conversation
. It is a long one.
Another
Toronto
-based former Kenyan political prisoner is
Jim Mapinduzi Mwangi
. Now, veterans of the old Kenyaonline and KCA online discussion forums and even the raucous RC Bowen forum assume, quite wrongly, that Mwangi is one of
Onyango Oloo's
sworn
aduis.
Not so, dear compatriots, not so, as is readily apparent from the tone and the easy banter that punctuates
this 117 minute interview
I conducted with Mapinduzi Mwangi in
February 2003
. Listening to
Mapinduzi Mwangi
it is apparent that the notorious "
swimming pool"
torture was first tried out on ex Airforce service men being held incommunicado in the dungeons of
Naivasha Maximum Security Prison
in the repressive months following the brutal crushing of the
August 1982 coup attempt
.
One of Mwangi's former military colleagues just so happens to be one of my closest friends and political comrades.
Omondi K'Abir
lives in Oslo, Norway and we met at Kamiti Maximum Security Prison when we were both serving long sentences.
Here is our talk.
They say pictures say what thousands of words cannot hope to articulate.
How true, scrolling down the following images of members of the
Release Political Prisoners
in confrontation with Kenyan security forces as the
RPP
attempted to do a memorial protest for their slain
Secretary General Karimi Nduthu
: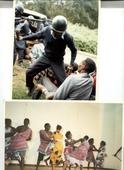 After those graphics, let us now return to sounds, but this time, musical sounds, not interviews.
I would like to reintroduce two of the most dynamic hip hop acts on the Kenyan underground music scene today,
Sinpare
and
Do Klan Revolution.
Both acts are heavily influenced by Pan Africanism, Socialism and
Uzalendo
and their members do not shy from speaking out on often controversial politically radio active subject matter.
Let us start with
Do Klan Revolution
doing a number against the culture of silence and impunity called
Roho Juu
.
Now let us hear
Sinpare's
patriotic anthem,
Jivunie Ukenya
which rails against the state engineered so called 'ethnic clashes' that claimed hundreds of lives in
Molo, Burnt Forest, Likoni
and elsewhere in the 1990s and later.
This is followed by Do Klan's
Vijana Kwa Vijana.
My own prison ordeal is quite familiar to most of my readers so I will not repost the article I did on the 20th anniversary of my incarceration. Most people know where they can find it.
Tonight, I will just provide links to
three spoken word pieces
I did recently that may be of some relevance to the theme of this digital:
Twataka Nini?/Zinduka!
Pindua!!
Washikwe!
And by the way, long before the abortive coup and the Mwakenya Crackdown there were enough mind boggling tales of inhumanity behind bars to fill a thousand blogs.
For instance ,
here is the tragic survivor story
of
Kisilu Mutua
who was plucked off a Nairobi street at the age of 22 in 1965 and charged with killing the militant Kenyan socialist patriot,
Pio Gama Pinto
- a man he had never met.
Kisilu spent MORE YEARS IN PRISON than Nelson Mandela-36!Kwaherini, Wacheni Nikatune...
Onyango Oloo
Montreal