A Tribute, by Onyango Oloo in Nairobi
First of all, here is an excerpt from
Cyprian Fernandes' blog.
Cyprian Fernandes
is a Kenya-born, Australia-based journalist, among the first employed by the Nation Group of Newspapers. He was the paper's Chief Reporter. He began as a sports reporter and quickly moved to General News, Politics, Investigative journalism and social commentary.
This passage features a conversation between
Emma Pinto (seen here with Tereshka)
, Pio's 86 year old widow who now lives in Canada and the Kenyan born, US-based
Benegal Pereira:
How are you Emma, healthwise?

I am fine, considering my age and my handicaps. I have one seeing eye and it is losing power. I can't recognise people if they more than four feet away. I also have two artificial ribs.

I had told my daughters that I never babysit their children. Linda has a boy and a girl, Malusha has two girls and a boy and I live with Tereshka in Otawa. She has no kids and keeps an eye on me.

I lost sight in one eye within three years of our arrival in Canada.

You have three loving daughters…

Yes they are very attentive.




After I finished working, Tereshka suggested that I write my autobiography. She said just spend 10 minutes a day doing it after had been to the gym. She also wanted me to write about her dad. I have written the biography and I did it in two months. I had nothing to do and wanted to write about my life story, hoping that Pio would come into it as I progressed.




I have memory blockages, dates, and times, I missed.

Of course, it is important to record or you will start forgetting things:

Yes I used the mental block as a mechanism to save my own mind. I say mental block because once I wrote it, I did not want to read it again … my emotions, you know?




During the first four years of my life "with" Pio, while he was in detention, I read a lot to try and understand why he was in politics for a country that was not his. It was just six months after we got married in January 1954, when Pio was sent to Nairobi Prison. Fitz de Souza took me to see him there. Soon after, Pio was moved to Fort Jesus and then to Manda Island in Lamu.




The children were no yet born?

No they weren't born.

Thank goodness.

What was Pio like as a husband?

He was hardly ever there. Within the first six months, he told me

"you can't

stay at home".

Intelligent women don't stay home, he said. Take a secretarial course and find a job, he said. And take Greggs shorthand (as opposed to the more popular Pitman's shorthand). Pio did Greggs shorthand and he said: "One day you will able to read my shorthand if I need you to read back my notes."




So I enrolled at Pioneer (did she mean Premier ) College and started learning Greggs.




I had hardly finished the course and had to go work because I didn't realise that he wasn't earning anything.




He would come home at seven or eight in the evening. I would be quite annoyed because we had no phone and his parents were in Nairobi at the time. Pio and I lived in the servants' quarters of Fitz's house and Fitz's parents were staying the main house. (Fitz was in England studying, hence was not able to be at the wedding)




Pio had arranged a room for himself another for Rosario, his wife, and his mother-in-law.




We went on a short honeymoon to Jinja where one of Pio's uncles lived. My parents and brother who had come for the wedding had left for India. Pio's parents who had come from Nyeri (his father worked in the District Commissioner's office) also returned home.




Pio and I moved into that room in which he had lived as a bachelor.




For the reception, Pio's brother had arranged everything and the whole house was involved in the preparation of food and stuff.




At the time of the wedding,

Joe Murumbi' s first wife Cecilia and their son Jojo were staying with us. Cecilia was probably Somali because after finishing his schooling India, Joe went straight to Somalia. She was the daughter of a chief but that could be just hearsay. (Fitz de Souza told Cyprian Fernandes in 2014 that he arranged for Cecilia to divorce Murumbi. Sheila, the second wife (bigamy in any language) was uncomfortable with Cecilia around. Fitz gave some money and she returned to Somalia where her family was supposed well off.)




Joe Murumbi could not come to the wedding because Pio, fearing for Joe's safety following the detention of important elements of the Kenya African Union, sent Joe to London. Joe was the KAU vice-president.

Did you know Pio as a political activist, supporter of the Mau Mau?





No. I didn't know the name, Mau Mau. (Elsewhere she says that Pio never spoke to her about politics, it was his way of shielding her). I knew he worked for the Indian National Congress in the Desai Memorial Building. I was not aware he was actively involved in the African political movement.




He told me only that he worked at the Indian Congress office.




(It is easy to the see the courage of Emma Gamma Pinto in what turned out to be a terrifying and horrific situation. As this part of the interview reveals, Emma continues to remain calm, pretty much in control until she is in complete shock when the full realisation of her loss finally hits.)




In his own quiet and concerned manner Benegal raises the difficult and sensitive question. He is always aware that he should not be party to cause Emma any hurt, pain or anguish. He asks her:

It is now 48 years since that particular day. What do you remember of it?




On that particular day – we were living at No.6 Lower Kabete Road at the time. The house had been donated to Pio. He had bought me a little car so that I could have some independence as far as transport is concerned.




The new government was now nearly 14 months old and they had decided to get rid of all the English secretaries and Pio told me: You are going to be the secretary to Achieng Oneko, the Minister for Information, Broadcasting and Tourism.




Pio had dropped me off at my office in Jogoo House and had returned home to collect his Parliamentary papers.




About an hour later, I was in Achieng's office, around 9 o'clock when my mother called me on the phone. She had just returned from India after taking my eldest daughter Linda there for six months.




My mother phone to say that Pio had been attacked and she was hysterical and I said: I will be home soon. I am coming home right away.




But I am a very , very calm person in any emergency.




So I immediately phoned the Minister for Defence, Dr Njoroge Mungai, and told his office that Pio had been attacked and said please send the police there (to their home).




Then I picked up the phone and rang Joe Murumbi because he would not have left the office because Parliament does not start until 11 am. He was the Minister for Foreign Affairs. He and his wife Sheila lived five minutes away from us. I said to him: Joe Pio has been attacked, please go to our house.




Next, I ran into Achieng's office and said: Can I have your car. He said his car was in the garage for repairs or a service.




Then I rang Oginga Odinga's office and spoke to an American girl, Caroline Odongo, Odinga's secretary and said to her: Caroline, Caroline, can I get a car to take me home? Pio has been attacked. She said she would call me back immediately. She did. She told me Odinga's spare car was being sent round to the front of Jogoo House and would be waiting for me. Odinga was the first Vice-President of the country.




All the time, I assumed that Pio had been attacked and that he had been injured and I assume … inaudible.




As I got to the gate of our house, I saw our car had been parked at the gate and as I got out of Odinga's care, I saw Murumbi arriving in his car.




As we walked past the car and into our home to find about Pio, my mother said: He is still in the car, he been killed. That was the first time I had heard that Pio had been killed. So we both dashed out to the car and saw that Pio's body had been covered in a pink blanket. My mother had asked our house servant, a nice young man called Waweru, to cover Pio.




Pio usually gave our 18-month old daughter Tereshka a ride from the back of the house to the gate from where she would be collected by the maid and walked home. When the maid got to the back of the car, she heard shots and she ran back to the house to get Waweru. She really did not see too much because she was terrified. By the time Waweru got to the car, Pio had already been shot.




Were there any eye witnesses? A woman saw two African men, one on either side of the car. At the trial of the man charged with the murder (but released as innocent 35 years later) they said there were two assailants.

No. Because of my reading of political matters I am aware that politicians lead very dicey lives. They are walking a tightrope. So when Pio was assassinated I assumed it was part of the politician's life.




It was shocking for me, a new immigrant to Kenya that he was shot so soon. He had already been in detention for four years. It was tragic.

Well I felt disappointed that someone who had worked so hard for freedom …in my readings, I read that bitterness is like a fire in the corner of a house which will eventually consume the whole house. So I was cognisant of the fact that I should never be bitter of the whole situation. It was a fact of life. Mahatma Gandhi was murdered ….

Did you get much support from family and friends?




My twin sister Joyce lived just down the road from me. The people at the first private British company I worked for (International Aeradio Limited, engineers), I don't think they were sympathetic to Pio, but they were sympathetic to a widow.




Joe and Sheila Murumbi took me to their home for two days. My mother stayed with the girls at our house. Our friend Dr Eraj gave me a sedative because I was in severe shock.




When we saw Pio's body in the car, Joe said let's get Pio inside the house. Because I was in shock I have no clear memory of the people there.




Waweru and Joe's driver put Pio's body in the pink blanket and carried his body, not like a sack of potatoes, but like something, into the living room.




Fitz de Souza (MP and Deputy Speaker) arrived at one point. I had not phoned Fitz. I don't know at what point Fitz was involved. Perhaps he found out from Parliament which had been informed. (Fitz a barrister heard while attending the Kenya High Court.)




Fitz was there when Pio's body was brought into the living room. I remember I sat down and they put the blanket down and I could see that little hole under his ribs. I was sitting with Joe and Fitz, and I said: Gosh, Pio looks so pale."




And Fitz said: Get out of there, get out of the room.




So that was my one and only view of Pio when he was brought into the home.

After nearly 50 years, do you feel that Kenyans have served Pio's memory well?




I think they are doing quite a bit to keep his memory alive. They have named a street after him and they also included his image in a commemorative stamp which: Heroes of Kenya and included: Tom Mboya (a rising political star, also assassinated), Ronald Ngala (leader of people from the Kenya coast)

and Oginga Odinga (fellow socialist, some would say communist, first vice president of Kenya and later the opposition leader).




The street in which we lived, Kabete Road, has been name after Pio. All the houses have been demolished, including ours and the whole area has been redeveloped. A large shopping mall has been erected.




What was Pio like as a Member of Parliament?

As you may have realised, I was more or less the breadwinner and Pio and I never checked our bank balance. I did not know how much we had until he was assassinated and when I went to the bank to get the money to pay our rent which was in arears. There was nothing. And I had to pay Cecilia's rent as well …

I am a little confused, Joe Murumbi had two wives?

Yes. When he came back from England, he brought Sheila with him. As I said before, just after 1954, Pio sent Joe Murumbi to the UK escape arrest. Pio was sending him information about the situation in Kenya, the Mau Mau, the detainees … so that Joe could advise the British members of Parliament who were sympathetic to Kenya.

Did you know India's High Commissioner to Kenya, Apa Pant, who said that it was Pio who introduced him to Kenyatta, Koinange and brought him into the enclaves of the Mau Mau. Did Pio mention him to you?

Pio kept his political work completely secret from me.

Several attempts have been made to write Pio's story. Most, if not all, have fallen short. What is the hold-up in writing the complete story?




In order to write someone's story,

one has to have written facts but when Pio was shot his two friends, Pran Lal Sheth (Pranlal, a journalist, barrister and a businessman. He was also an outstanding fighter of freedom both in Kenya and India. Soon after Pio's death he was deported and went to continue his battles for people in the UK) and Sarjit Singh Heyer (an economist and a confidante of Pio) burnt all his books, papers and other material (Pran Lal told me this many, many years later when I visited him in England.) Pranlal had insisted Pio's papers be burnt and I remember seeing a bonfire that night after Pio was shot.




Pio had his own office in the house and they took Pio's books, papers and everything and they burnt them. They didn't even ask me.




They could have hidden them or taken them somewhere.




Sheila Murumbi told me later that she would have taken the books and papers but they did not even ask her. I think Pranlal and Sarjit were there but I can't really recall because I was still in shock. All I remember is when I looked at the back door I saw the big bonfire.

Do you think they did it to protect the family?

No. Pio did not write about the family.




We have to speculate because Pranlal said that Pio was not only involved in Kenyan politics but also in African politics… countries that were just emerging. I guess they were concerned that Pio might have mentioned names and they were protecting these people, the politicians, dignitaries, that Pio had come into contact with.




I had no idea who they were because Pio never told me what he was involved in or the personalities. Pio used have people from foreign countries come to the house and have meetings in his office but I was never involved. He never asked me to make tea or provide refreshments.




I just did not want anyone living in our home, even though we had a spare room. I told Pio we should protect our family. I said we had daughters and we must protect them.




How long did you remain in Kenya after the assassination?




I remained in Kenya for two years. I was waiting for the tombstone which I was told was coming from Italy.

Pio is buried in Nairobi's City Park cemetery, is it protected?

Was he buried in the City Park cemetery for any reason … most Goans were buried in the Langata cemetery?

All the arrangements were made by Joe Murumbi and Fitz de Souza. Fitz left Kenya soon after the assassination because he was afraid, he told me so in London not so long ago. He realised he might have been in danger. I think he was there for the funeral.

You visited Kenya twice …?

The first time Fitz invited the whole family and my mum too. We stayed with them in their Muthaiga home.




The second time was when Achieng Oneko's son came to Canada and asked if he could do anything for us. He was the Minister for Tourism or was in Tourism. My daughter Linda, husband and I took him up on the offer and he made all the arrangements for the safari.

I know you went to meet Achieng in his ancestral home …?




I went to his home and he had retired from work. In our honour he had a goat slaughtered for a barbecue. He said to me: Emma this is specially done because it our tradition.




Linda and her husband stayed with his daughter 200 yards away. I stayed with Achieng and his wife Lois. We spent two nights there. On day at breakfast, Lois point to a room and said that was Achieng's office.




I asked Achieng what he did in his office. He said: Oh, nothing it is all locked up.




I asked: All locked up? Do you have papers in there? You must let me have some of the papers Pio wrote to you.




He said: No, no, I am not opening that door. So I said: Please, Please.




So he went in brought out one file folder and as I leafed through I recognised a letter in Pio's handwriting. And I said, Achieng, give me this letter.




He said: I am not going to give it to you.




I said: Make a copy for heaven's sake.




He thought about it and said: We have no photocopier here.




I said: Well I am going to Nairobi for a meeting and I will send you a copy.




We left without the letter. A day or two later, I got a call from him saying come and have a coffee with him at his motel. When I got there, Pio's letter and a copy of it were there.




I said: you are not going to give me the copy? I want the original.





I said: It is my husband's letter.




He took the letter and wrote: "Given to Emma" and signed his name.




I was so taken up and excited with finding one letter that I forgot to through the rest of folder.
Secondly, let us hear from Pinto's own brother, the late
Rosario Da Gama Pinto
, who was also a political activist in his own right. Rosario endeavoured to chronicle his sibling's historical achievements. After his death, his daughter
Audrey
took pains to type up his notes. As the copyright holder, she gave
Cyprian Fernandes
permission to post
'Pio, My Brother'
on his blog cyprianfernandes.blogspot.com (February 8, 2015), a veritable and valuable trove of information on
Pio Pinto
:
At this juncture, it was necessary for Pio to return to Goa to look after our mother who was unwell and oversee the running of the family estate.

He took the opportunity to build an underground movement for the liberation of Goa, along with many other colleagues.
Portuguese Intelligence soon became aware of his activities and kept a close watch on him.

If it had not been for family connections and influence, he would have been arrested and deported to an overseas colony, like most of his colleagues.

It was at this time that Pio felt that East Africa would be his next target to put his ideals into practice and carry out the anti-colonial campaign based on Ghandi's principles.

When he reached Kenya in 1949, he threw himself into reading material on Kenya, East Africa, the various tribes, customs and culture and different patterns of colonial administration in these territories.

To avoid interruptions and temptations of city life, he took up a job with the Magadi Soda Company, (a subsidiary of I.C.I.) and only returned to Nairobi several years later.

By this time, he was well read, knowledgeable and au fait with the conditions prevailing in East Africa

vis-à-vis

the injustices suffered and the anguish of the sons of the soil.





Pio took up employment as a paid Secretary to the East African and subsequently Kenya India Congress, the only forceful political forum of the Asian community where he felt he could establish closer contact with the more progressive elements of the Asian community.

He held this position for a few years until he branched out into journalism.

His position allowed him to influence a joint meeting between the Congress Executive and the Kenya African Union Executive, which was considered an impossible task, bearing in mind the privileges enjoyed by a large number of the Asian community.

The agreement reached was for the Asian members of the Legislative Council to press for increased elected African representation on the Legislative Council and other bodies which, in the past, were represented by a European as a Chief Native Commissioner and later by nominated and hand-picked puppets as African Nominated Members, whereas the other communities were free to elect their own representatives on a communal basis.




Pio then joined The Daily Chronicle, an English/Gujarati daily newspaper, as its editor and simultaneously co-operated with the late D. K. Sharda, in printing and publishing The Tribune, later banned by the Government.
Pio made his mark in journalism by highlighting the African cause, the racism and glaring injustices that prevailed, the awful slums around Nairobi, the terrible living conditions and lack of educational facilities for those living on the African Reserves, the absence of employment opportunities for educated Africans (even when they were better qualified!), the enormous amount of money spent on European education compared with that allocated for Asians and Africans.

His articles and editorials were a source of annoyance and embarrassment to the authorities.

He was often subjected to threats and other forms of intimidation, but he was strong enough to withstand these and much more!




Pio, together with another Goan journalist, Mike Fernandes, started a Goan paper, the Usvad (Torch) a Konkani weekly, to highlight the Goan liberation struggle, but this was quickly sabotaged by the Portuguese authorities who intimidated the readers and printers and also made representations to the British authorities who were their allies.




Pio was also the writer of the Goan Newsletter, which was broadcast over All India Radio Service New Delhi to Africa until his detention and subsequently by Michael Fernandes.

Pio was also the Press Trust of India Representative in Kenya, which allowed the press and Parliament in New Delhi to raise protests over events in East Africa.

Realising the importance of the press and the overwhelming power of the authorities to suppress licences for the printing of newspapers, Pio used to churn cyclostyled newsletters in various African languages and sell them at cost, often making a loss.

At this time, Pio and W.W.W. Awori, a progressive nominated Member of the Legislative Council (Legco), decided to buy a press, but this did not eventuate. In the interim Pio was detained under the Emergency Regulations.




Pio married Emma Dias in 1954.

She understood his aspirations.
Pio had, in the interim, established contact with M.P.s in England and other Ministers in India and acquainted them with the state of affairs, submitting memoranda and notes, as also contributing material to the local press (owned by the European community) and the English press, both under his own name and a nom de plume.

Pio's network has grown immensely.

Africans from Madagascar even sought his assistance and advice.

Pio's opinions and advice were also sought by Executive Members of the Kenya African Union (KAU).

He managed to get the KAU Executive to pass a resolution to accept that the only way to achieve independence was by non-cooperation, protest meetings, boycotts and other non-violent means.

He was fully aware that the European settlers were only waiting for a chance to use violence.

They were well equipped and backed by the British Government.

It was only a matter of time before there was a blood bath.




As the situation for Africans in Kenya grew worse, the European settlers managed to convince the British Government that subversion had set in.

As a result, Jomo Kenyatta, Ramogi Achieng Oneko, Paul Ngei and hundreds of others were arrested under Operation Anvil.

Pio got as much international aid, financial and legal assistance to fight their cases.

Pio also managed to arrange for hundreds of others to be represented in virtual mock trials under the Emergency Regulations, and their businesses and other interests safeguarded by progressive Indian lawyers like

Achroo Ram

Kapila, Fitz de Souza, Hirabhai Patel, Bill Inamdar, etc.

However, this was a drop in the ocean considering the numbers involved.

Pio, both in the press and otherwise, had opposed Asian participation in the establishment of the Asian Manpower Unit to quell the Mau Mau rebellion.

This made him a candidate for detention.

In fact, the Mau Mau ('Forest Fighters') had vowed as a retaliatory measure to cut down the Asian traders in the African Reserves and small towns.

However, Pio managed to dissuade them from this course of action.

He argued that these poor Asian traders should not bear the brunt of the attack as their misguided leaders (some British stooges) were to blame.

Not only did Pio obtain and channel help to the families of the victims, but he even paid for their children's schooling, food and clothing, as far as was possible, out of his own pocket.




When the freedom fighters found that they could not hold out indefinitely against the well-equipped army, they fled into the forests and used Pio as a go-between to request a ceasefire. Knowing that the settlers would crush the rebellion, Pio approached the Government of India via its Acting High Commissioner (R. K. Tandau) and asked that the question of negotiations be taken up at the highest level with the Colonial Office.

The British Government's attitude was favourable and the then Commander-in-Chief, General Erskine, and other officials were asked to meet with the Forest Fighters.

However, this meeting was sabotaged by the local settlers who held high posts.

The security forces opened fire on the representatives of the Forest Fighters.

The local government wanted a scapegoat to take the blame for the failure of the meeting, so they detained Pio under the Emergency Regulations. He was not allowed a proper trial or hearing; he was also denied legal aid.

He was held incommunicado and after a few days in Nairobi sent to Mombasa under heavy police escort.

He was later moved to Lamu Island and then Manda Island where thousands of hard core Mau Mau were exiled for years under terrible conditions.

Pio was offered better facilities, but decline them on principle.

He lived like the rest of his comrades on maize-meal flour, rice, fish etc.

Our family sent him 1.50 shillings a month for cigarettes etc.

However, he preferred to share the money with the needy.

He was interrogated by the Special Security teams on several occasions.

They promised him an early release if he would confess.

He refused to give into their threats even at the threat of deportation.

He was offered a one-way ticket to India which he again declined as he wanted a fair trial.

His time in the detention camp has been covered in various publications.




While in detention, Pio was not allowed to see his dying father, Anton Filipe.

Ironically, they are both buried in the same grave at the City Park Cemetery in Nairobi.

I was not allowed to see him in detention because of my political associations and involvement. Years later, Pio was exiled to an isolated district called Kabarnet where he worked as an administrator in the District Commissioner's office. (While he was in Kabarnet, he met Daniel arap Moi and guided him into politics, which resulted in the formation of the Challenging Political Party.)

Pio's new job allowed him more freedom to read newspapers.

Emma was eventually able to join him.

He was even allowed to visit Nairobi for Emma's confinement. He stayed with me, under a friend's supervision.

Although Pio met up with political figures, he was given a good report, which expedited the rescinding of the Restriction Order a few months later.
On the pretext of being rehabilitated, Pio was allowed a transfer to the Education Department in Nairobi and served eight months.

He then resigned and worked full time for Kenya African National Union (KANU), formed by Mboya, Odinga, Gichuru, Kiano etc.

The first aim was to seek more representation in Parliament, the immediate release of Jomo Kenyatta and other detainees, without which there would be no cooperation with the Government or further talks on constitutional advancement.

Pio drafted many documents and speeches for political figures.

He felt the time had come to form a more progressive Asian political party, as compared with the Kenya India Congress, and formed the Kenya Freedom Party lead by Chanan Singh and other progressive Indians from all over Kenya.

This body was more forceful and articulate in voicing nationalist sentiment.

Pio also had a hand in the formation of the East Africa Goan League under Dr Alex da Costa, which in addition to identifying itself with the problems in Kenya and neighbouring territories, also championed the cause of liberation for Goa and the other Portuguese colonies in Africa.




Pio organised social functions and other fundraising events to meet the cost of political expenses i.e. sending delegations overseas.




Pio worked tirelessly for Jomo Kenyatta's release and even antagonised former friends who went on to become ministers in Kenyatta's Government.

They did not want Kenyatta released from detention.

Pio did his best to provide for Kenyatta's and Koinange-wa-Mbiyu's families.

In fact, Chief Koinange died in his arms while they were detained in Karbanet.

Pio used his influence to extend and furnish Kenyatta's house after his release and made great efforts to improve his tarnished reputation.

He knew that the same "divide and rule" policy used by the British in India would be used to disunite the parties.
Pio also broke the apartheid rules by entering European restaurants and hotels in Nairobi and Mombasa in 1951.

He and his friends would be physically ejected or coerced to leave by the police.

As a result of his efforts, plus the changing political situation nearer to independence, non-whites were finally allowed access to these same restaurants etc.
When the African-American leader, Malcolm X visited Kenya, he found he had a lot in common with Pio.

They planned a common strategy to deal with the daily humiliation and indignities suffered by both Africans and African Americans.

Malcolm X was assassinated on 21 February 1965, three days before Pio. Their murders are linked in that both were considered dangerous to vested interests.




Malcolm X was a brilliant man who saw through the camouflages of his own Government.

He, unlike the more moderate Martin Luther King Jr, felt stronger measures were required to bring an end to racial injustices, including discrimination in employment, housing and other services which were endured by African-Americans.




Pio also involved himself in other liberation movements such as MANU, subsequently merged with F.R.E.L.I.M.O, (Mozambique) MPLA/UPA Jonas Savimbi (Angola), Mario de Andrade, PAIG, (Guinea Bissau, Cabo Verde), Comores Island, Pan African Congress, (South Africa) Chedi Jagan's party in Guyana, South West Africa, Congo (now Democratic Republic of Congo).




Pio also built up the Pan African Press in Nairobi by obtaining financial assistance for its set-up from the Government of India and other 'friendly' governments.

He printed it both in English and local languages.

Prior to this, he was at the mercy of other Asian printers who under duress were unable to oblige him, even on payment.




In 1964 Pio worked tirelessly to establish the Patrice Lumumba Institute in Nairobi.

Its objective was to educate Kenyans and people from other non-independent African countries about the needs and requirements of African society, without any political indoctrination form either Eastern or Western European countries whose ideologies and society were alien to African culture and tradition.
Pio saw Goa free and was asked to come back to help the newly independent State.

However, he felt that there was enough talent in Goa.

He had a greater contribution to make to millions of Africans still under the yoke of colonialism.
Pio was often threatened and even a month before his death was aware of a plot to kill him by prominent politicians.

Although upset about the plot, he carried on as normal until his untimely death on 24 February 1965.

He was on his way to organise a demonstration against the American Embassy and Mo

ï

se Tshombe who was heading the Congo Government Delegation at the Organisation of African Unity (OAU) Talks.

Tshombe was the best example of a colonial stooge on the African continent at that time.

Pio was contemplating going to Lindi in Tanzania to direct the fight against Portuguese colonialism, but Kenyan politics were at a critical stage, which made his presence there imperative.
Pio's experience in the Indian Trade Union movement was particularly useful. Sardar Makhan Singh and Stephen Rao were of immense help in building the African trade union movement, later lead by the late Tom Mboya.

Pio sincerely believed that Kenyan Trade Union movement's development should be dictated by local conditions and environment.




Pio and his colleagues smuggled messages about prison conditions and other matters to Tom Mboya, Jaramogi Oginga Odinga and Julius Kiano (the first elected African Representatives to Kenya's Legislative Council).




Even though Tom Mboya had occasional differences with Pio, he mourned his death.

He knew that this assassination would lead to many more, including his own as it turned out.
Pio, knowing that his life was in danger, had expected me to keep out of politics.

I obeyed him until his detention when I felt a strong urge to take up the cause despite the negative impact it was to have on my health, family and finances.




Pio was murdered to silence him and put an end to his dream to implement socialism, the ideals for which the people had formed the Government.

Now that independence had been gained, and the armed forces' loyalty had been bought, those in power considered it a convenient time to assassinate Pio as a warning to other dedicated nationalists.




He never wanted to occupy any high posts, preferring to assign them to his trusted and talented friends like Joseph Murumbi, Pran Lal Seth etc.

Initially, he felt he could achieve more behind the scenes; but then changed his mind. He felt that the only way to achieve his goals and ideals was to be elected to Parliament.
Pio's sincerity and dedication to the African independence cause was greatly admired by representatives of many governments.

He was invited to visit Egypt, India, Algeria and Czechoslovakia.
We would like to fervently and publicly acknowledge the critical inputs in producing this tribute provided by
Savio Ribeiro
, Pinto's first cousin, who grew up in Uganda, but is now based in Bahrain; Pinto's nephew,
Clarence
, and niece,
Audrey
, both based in Melbourne, Australia; Pinto's children:
Linda
(also known as Linette),
Tereshka
and
Malusha
(also known as Marie Charles), together with Pinto's widow, Emma, all based in Canada. I personally spoke to Savio on the phone and both
Linda
and
Clarence
emailed me directly in the run up to March 7, 2015.
Emma
has been in direct contact with the veteran Kenyan human rights lawyer
Pheroze Nowrojee
who, along with
Davinder Lamba
were the initiators and part of the core group putting on the tribute to
Pio Gama Pinto
.
Next, we ask, once again, who was this Kenyan called
Pio Gama Pinto?
Well, here is a
version of his biography from Wikipedia
.
But be careful of a little but SIGNIFICANT detail.
The day Pinto died.
The article like most other accounts in the public domain state that Pio da Gama Pinto died on February 25, 1965.
Well, that is simply NOT TRUE.
If you put these words on Google:
"hansard" "kenya national assembly" "february 1965" "pio gama pinto"
You come up with this link:
https://books.google.co.ke/books?id=LpUdhX0NdKYC&pg=PA238&lpg=PA238&dq=%22hansard%22+%22kenya+national+assembly%22+%22february+1965%22+%22pio+gama+pinto%22&source=bl&ots=eShOGw6gqh&sig=W42BUj34SrPLC0SPhtqJ0A343ow&hl=en&sa=X&ei=z2j4VOmnMYG2UbargIAB&redir_esc=y#v=onepage&q=%22hansard%22%20%22kenya%20national%20assembly%22%20%22february%201965%22%20%22pio%20gama%20pinto%22&f=false
Which informs you that at 2:30 pm on Wednesday, FEBRUARY THE TWENTY FOURTH, a hushed and stunned Kenya National Assembly was informed by the Speaker, Sir Humphrey Slade, that the MP representing what is now Westlands Constituency was shot dead as he was leaving his drive way on his way to Parliament. The Vice President, Jaramogi Oginga Odinga made a motion for the house to be adjourned in honour and mourning for the slain Pio da Gama Pinto. Tom Mboya, a powerful minister and Secretary General of the ruling party KANU seconded the motion. After a ten minute session, the Speaker adjourned proceedings for 24 hours.
What adds to the confusion is this newspaper headline from the
Daily Nation
newspaper:
Dear reader, please scrutinize the
DATE
.
By the way Pinto's killers have never been caught to date, March 2015.
Kisilu Mutua,
who spent 36 years behind bars for a crime he never committed, a poor 21 year old vendor, was a convenient scapegoat.
Fifty years later, we are alive to the fact that Pinto's assassination is what ushered in a sordid era of state linked terror against those who were seen to be anti the status quo- the wiping out of the Mau Mau Generals Bamuingi and Chui; the daylight killing of Tom Mboya; the later brutal deaths of JM Kariuki, Robert Ouko, Father John Kaiser, Karimi Nduthu and others. This culture undoubtedly culminated into what is unquestionably the nadir of our national political contestations where major players across the partisan divide were implicated by the Waki Report and subsequently the widely televised ICC trials which has left a more traumatized, more ethnicized and definitely more polarized nation despite the lofty hopes and aspirations of the 2010 Constitution.
The death of Pinto was the first sledge hammer hauled at the Kenyan progressive forces, especially those who like Pinto identified themselves with the socialist ideology.
Jomo Kenyatta, Tom Mboya and the right wing in KANU would soon follow with the draconian security laws of 1965 ushering in detention without trial, an eerie harbinger of the harsh security regime passed by the Jubilee administration in 2014. Pinto's passing was also a death knell to ideological issue

based politics, a distant cry from the current farcical charade where the National Assembly has entire sessions devoted to determine whether or not

governors are entitled to fly flags in their gas guzzlers or deign to refer themselves as "Excellency".
By killing Pinto, Kenyatta KANU the regime was also sending a chilling message to Kenyans of Asian heritage not to rock the boat. Soon after his death, close associates of Jaramogi Oginga Odinga who happened to be Kenyans of South Asian descent were "deported" often to India- a country some of them had never seen!

The ensuing xenophobia contributed to a siege mentality within this important section of the wider Kenyan community. The later racist outbursts of

"nationalists" like

Martin Shikuku and Kenneth Matiba on the alleged dominance of "Indians" on the Kenyan economy only helped to mislead a gullible public some more.
Today as we remember Pinto and his active solidarity and support for the Mau Mau and national progressive causes; as we celebrate his courageous journalism in the Kenya Chronicle and his seminal role in launching Sauti ya KANU and later the Pan Africa Press, let us do justice by continuing his legacy in entrenching democracy, social justice, egalitarianism and yes, socialism.
Had the Lumumba Institute, which Pinto slaved day and night to establish in 1964 as an ideological training institute for party cadres taken root, we would not have in the twenty first century the pathetic phenomenon where at least two sitting presidents successively abandon the very parties that propelled them to power.
In 2015, we should continue Pinto's work of nation building by creating a Kenya which transcends tribalism, sexism, racism and neo-liberalism.
Kenya has NOT FORGOTTEN PIO GAMA PINTO.
Even the Kenya Government, which in its earlier Sixties incarnation was directly responsible for ordering the assassination of this beloved patriot, ULTIMATELY succumbed to the massive, overwhelming national sentiment of affection and adoration for Pinto by producing this stamp: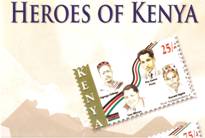 Let us rewind by scrolling through the following pictorial excerpts from the life and times of
Pio da Gama Pinto
On
Saturday, March 7, 2015
Kenyans are celebrating our great
Shujaa
, our indomitable and inimitable
Mzalendo:
Onyango Oloo
Nairobi, Kenya
Thursday, March 5, 2015