Onyango Oloo Gives Uhuru the Benefit of Doubt
It was a sterling open air performance when a night punctuated by the pitter patter of heavy rainfall in the polluted green city in the sun gave birth to an early rainbow presaging a day of glad tidings to the Supreme Court head of state and his deputy.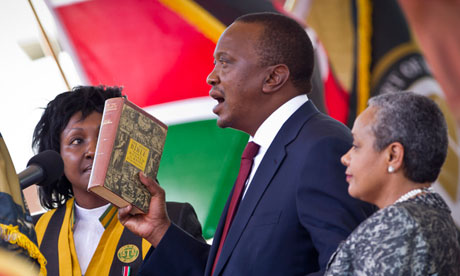 The precision and efficiency of the auspicious April 9th event bodes well for the incoming regime.
On a scale of 1 to 10 where 1 is abysmal and 10 is excellent, I give Uhuru Kenyatta and his deputy William Ruto a 7 in terms of the manner they projected themselves to the Kenyan people, Africa and the world when they clambered on to the stage to assume the starring roles in that meticulously constructed and intricately marketed mass media ceremony.
Kudos to what the third President Mwai Kibaki referred to as the "dynamic duo", a sub-conscious reference to the comic book heroes
Batman and Robin.
On Tuesday, April 09, 2013 millions of Kenyans were witnesses to an historic occasion:
Yet another peaceful transfer of power from one president to another.
Temporarily thrust in the back burner were the intense court room tussles between the opposing legal beagles; shunted temporarily from the foreground was the gaping chasm between the Jubilee jubilants and the CORDED mourners; forgotten for a moment were the controversies about biometric voter registration kits,
biometric identification kits, principal registers, green books, forms
34 and forms 36; suspended in disbelief were the assertions and
counter claims about fifty plus one and eight thousand
razor thin victory margins.
We had ring side seats as dazed and slightly confused starry-eyed spectators at a national carnival; this was our rendition of a Prince William paparazzi moment; only it was not a royal nuptials in the frigid British Isles, but a republican anointment in savannah East Africa.
Yes, a veritable coronation.
For indeed, that is what it was.
A crowning infused with ethnic, religious and regional symbolism.
It was not happenstance that the venue of the ascendancy of the KANU era crown prince was convened at the
Moi International Sports Centre in Kasarani.
For it was there, eleven years
previously, that former head of state Daniel arap Moi announced that it was Uhuru who was to be his preferred successor.
Having gone through the stumble of his ignoble defeat at the hands of Kibaki it must have been sweet revenge for the aging professor of Kenyan politics to see the third president pass on the torch to his adopted political god son.
Not lost to many observers including this writer was the fact the Kasarani ampitheatre is conveniently located right next to the Thika Super Highway-the artery to the Kiambu-Muranga-Nyeri-Kirinyaga-Embu and Meru GEMA heartland which provided the bountiful electoral harvest that was gifted to the Jubilee flag bearer in the March 4
th
gargantuan contest pitting the son of the first Kenyan president against the son of the first Kenyan vice president.
It was not lost on us that as one Catholic passed the baton to the other Catholic; as the two Christian (one born, the other born again) top political barons in the land knelt before the nation to receive their benediction from a fire and brimstone Pentecostal repent-the end times-are nigh- preacher, the very notion of Kenya being a secular state with no official religion was perfunctorily tossed out of the constitutional window as the Family Values contingent achieved a satisfying, collective spiritual orgasm underscoring that triumphant touché! climax; that gold medal juncture signalling that when it was all said and done at the end of constitutional ideological tussle, it was they, the Reds, not the Green side, who had actually won the 2010 Referendum!
To the Kenyan
liberals and social democrats; to
the country's
nationalists and the activists; to the home grown socialists and the made in Africa organic communist intellectuals; to
the patriotic feminists railing against violence against women and other gendered inequities and to the earnest , focused
ecologists on the frontlines of Kenya's campaign against devastating climate change;
to all these militant democratic comrades in the ever unfolding struggle for a new more just, more egalitarian, more prosperous
Kenyan society,
the sight of their very own revolutionary ambassador Willy Mutunga literally presiding over the crass installation of two ICC indictees must have tugged mightily at their
tortured innards;Willy himself,
was a study in contorted glum internal turmoil; akin to a feckless cousin frolicking at a raucous, drunken bash mounted to fete two suspects fingered for perpetrating a recent murderous outrage on the second born
son of his father's brother.
April 9th was the day the choke hold that had made us gasp for a fresh intake of air made us to finally croak as we would if we spoke Castillian or Latin American Spanish:
"No más! No más" (meaning "No more! No more!")
For those who do not understand the context or historical origins of this phrase, our good old friend Wikipedia is standing by to help:
Sugar Ray Leonard vs. Roberto Durán II, also known as the No Más Fight, is one of the most famous fights in boxing history. Taking place on November 25, 1980 at the Louisiana Superdome in New Orleans, United States it was the second of three bouts between the pair. It gained its famous appellation in the end of the eighth round when Durán turned away from Leonard, towards the referee and quit by saying "No más" (Spanish for "No more").

Their first fight took place on June 20, 1980 in Montreal. Leonard was defending the WBC Welterweight Championship for the second time, and Durán who was the WBC #1 welterweight contender.

Leonard abandoned his usual slick boxing style and stood flat-footed with Durán.
Leonard, angry with Durán over his numerous insults, wanted to beat Durán at his own game. The tactic resulted in a great fight but a losing effort. Durán won by unanimous decision. The scores were 148-147, 145-144, and 146-144. The bitter words between the two fighters, coupled with the close result, virtually guaranteed a rematch.

The rematch took place November 25, 1980 at the Superdome in New Orleans. Leonard used his superior speed and movement to outbox and befuddle Durán.
"The whole fight, I was moving, I was moving," Leonard said. "And Voom! I snapped his head back with a jab. Voom! I snapped it back again. He tried to get me against the ropes, I'd pivot, spin off and Pow! Come under with a punch."

In Round 7, Leonard started to taunt Durán. Leonard's most memorable punch came late in the round. Winding up his right hand, as if to throw a bolo punch, Leonard snapped out a left jab and caught Durán flush in the face.

In the closing seconds of the eighth round, Durán turned his back to Leonard and quit, waving his glove and saying to referee Octavio Meyran, "No Más" ("no more" in Spanish). Leonard was the winner by a technical knockout at 2:44 of Round 8, regaining the WBC Welterweight Championship. Leonard led by scores of 68-66, 68-66 and 67-66.
So like Roberto Duran we now croak:
"We surrender! We concede!"
Even if that seeming public concession was a tactical conciliatory retreat, in the spirit of Lenin's classic one step back, two steps forward maneuver.
On April 9, 2013, Kenyans finally accepted the reality that in fact

Uhuru Muigai Kenyatta

is the

Fourth President of the

Republic of

Kenya

-

minor details of whether or not

he

was duly, fairly and democratically elected notwithstanding.
When he signed the oath of office Uhuru Kenyata ceased being the Jubilee flag bearer to become the head of state of Kenya.

It is time for Jubilee and CORD supporters to pile all their red, orange and yellow T-shirts into a massive funeral pyre of national reconciliation and set the heap ablaze as we start holding Uhuru and Ruto's feet to the fire of public accountability, transparency and good governance.
In his inaugural valedictory President Kenyatta the Son told us:
Fellow Kenyans,

Dealing with unemployment will be a priority for my government. We are committed to creating jobs and opportunities for our people - especially our young people. We will do this, by creating an enabling environment for the private sector. We will harness the gifts and talents of our youth, in order to make sports and entertainment providers of profitable livelihood and to make Kenya a global leader in these areas. We will make the procurement process faster, more accessible, and transparent. We will simplify the process of starting and running a business, in order to make it friendly and cost-effective to do business in Kenya. We will expand electricity generation, extend the transmission network and ensure that electricity supply is more consistent and reliable. We will build on the accomplishments of the last administration in infrastructure, by increasing accessibility through roads and rail networks, as well as increasing digital connectivity. To the private sector, my promise to you is that we will create an enabling environment, so that you can play your part in creating employment and fostering economic growth. Fellow Kenyans, for too long our nation has exported jobs that should rightly belong to our citizens. We have focused on exporting primary products, instead of promoting value addition and manufacturing finished goods thereby creating jobs and improving our standard of living. Today, I pledge, that my administration will work towards diversifying our economic base. We will support the manufacturing industry and support all enterprises, both local and international, that strive to create finished goods using local labour and materials. I also pledge, that this Government, as the largest buyer of goods and services will take the lead in supporting local industry, by buying Kenyan first.
He continued:
Fellow Kenyans,

One of the biggest challenges to national unity is the feeling of exclusion in the decision making process, hence our desire and need for devolution. That notwithstanding, my commitment to Kenya is that our national Government shall and will reflect the true face of Kenya , with the clear understanding that as we bring decision making and services closer to the people , the integrity and solidarity that binds us as citizens of one nation , must not only remain , but must be strengthened.
What will he tell his
red shirted TNA storm troopers who assume that the millions of CORD supporters from Msambweni to Loitoktok, Funyula to Kitui, Malindi to Bomachoge, Kajiado
to Garsen
ARE
LUO SPEAKING FISH MONGERS WHO SUPPORT GOR K'OGALO?
Uhuru further declared:
I am equally committed to ensuring that interests of women, and the interests of young people are represented in my government. A department in my office will be dedicated to ensuring that the interests of these groups not only inform every decision I make as President, but also those of every department and government ministry.
Here he does indeed have bragging rights for his Jubilee Coalition brought in more young people and women into legislative power than his CORD foes.
The fourth president then uttered something he has to think about deeply if he is serious:
Our doors will always be open. We will never turn a deaf ear to the needs of any person or group.

We will leave no community behind.
Mr. President, are

you aware that Kenyans are very jittery about the possibility of you following in the footsteps of Mwai Kibaki who broke all records in his determination to have public appointments dominated by members of the GEMA communities around Mount Kenya?
Uhuru further gave us this pledge:
Fellow Kenyans –

To achieve these goals and to achieve Vision 2030 – we must be responsible stewards of our natural resources.




In light of this - my commitment and the commitment of the Government will be to support the National Land Commission as they seek to provide the land answer. My government will strive to work with all actors to ensure that the issue of land will never again be a contentious or a divisive subject but rather that land will be seen as what it truly is, a factor of production.




I also promise that we will exploit our natural resources in a way that benefits the current generation while safeguarding the interests of generations to come. I want to assure all Kenyans that we shall use all the money that comes from natural resources for development programs.
Mr. Fourth President:
Let us speak plainly. Your family is one of the largest land owners in Kenya. The people of Taita Taveta, Kilifi, Mombasa, the Rift Valley and even Central Kenya believe that your father, Jomo Kenyatta grabbed and stole their land. How will your Excellency handle this long standing historical grievance?
All we can say to that is to echo your deputy:
Kusema na kutenda.

We shall judge you by your ACTIONS, not your flowery rhetoric.
On the question of security, you were abundantly clear:
Let me reiterate that even as we work together to promote inclusion, open new frontiers and create new opportunities, we will not tolerate those who continue to threaten the peace and security of our citizens. Criminals, cattle rustlers, drug barons and agents of terror, who disrupt the peace of our society will be met with the full force of the law and the strength of Kenya's Security Forces. On this matter, we are resolute.
But wait a sec, Mheshimiwa Rais.
We hope you will not be like George Dubya Bush using propaganda about" security" "stability" "terror" and "rule of law" as a spurious excuse to claw back on our hard won democratic gains, clamp down on civil and political rights; escalate the already worrying trend of the criminalization of dissent which includes targeting and profiling bloggers and social media activists like Onyango Oloo and Robert Onyango Alai. I noticed that you barely touched on the Bill of Rights in the Constitution which guarantees such fundamental freedoms as freedom of speech, freedom of expression, freedom of assembly and freedom of association.
When Mwai Kibaki was transferring power to you, he handed you two instruments:
One was a sword.
The other one was the Constitution.
Please Mr. President, use the sword sparingly even as you forever clutch on to the Constitution.
Millions of Kenyans witnessed you hold the Bible aloft as you SWORE to DEFEND the Constitution.
Mr. President, we will hold you accountable to that oath of office.
You were making a public and binding commitment to the Kenyan people that you will preside over the transition of Kenya from a National Security State to a National DEMOCRATIC State.
That is a pledge, a commitment, a firm undertaking that you will NOT attempt to take us back to the dark days of the Moi-KANU one party dictatorship which saw innocent Kenyans fill the maximum penitentiaries and become regular guests of the secret police torture chambers at Nyayo House and elsewhere.
Your Excellency President Uhuru Muigai Kenyatta, we are age mates.
I was born in August 1960, a year before your own birthday in November and you are just a couple of months younger than Barack Hussein Obama.
On a light note, if
Daniel arap Moi
had not jailed me in 1982 and later forced me into exile, I would be a GRANDFATHER by now.
In other words, you and I are not exactly teenagers, but greying, middle aged Kenyans who have started ignoring those urgent calls from our ancestors to go and rejoin them over on the other side.
On a more serious vein, I was absolutely thrilled when you said this:
Fellow Kenyans,

My government will immediately begin the process of supporting devolution and enabling county leadership to carry out their constitutional mandate and fulfill the pledges they made to the Kenyan people. Let us all be clear - supporting devolution is not a choice, as some claim it to be - it is a duty. A constitutional duty.

One that I have sworn to uphold. Our constitution does not suggest devolution, it demands it. I urge all Kenyans to be persistent, pragmatic, patient and non-partisan, as we pursue the promise of devolved governance.
Kenyans were beginning to get

very worried

about some mixed signals coming from some of your unelected mandarins who were muttering about the supremacy of the "central government" (which does not exist by the way- the Constitution says that

there is ONE government consisting of a national level and 47 devolved units). Please stand firm on this your Excellency.
Mr. Fourth President
, the other thing which pleased me
about the April 9
th
ceremony was the
presence of luminaries like
Kenneth

Kaunda

of Zambia,

Paul Kagame

of

Rwanda,

Goodluck Jonathan

of Nigeria,

Jacob Zuma

of South Africa,

Joseph Kabila

of

Congo,

Yoweri Museveni

of

Uganda, the President of South Sudan

Salva Kiir, Reverend Jesse Jackson

of the

United

States along with the

Prime Minister of Ethiopia

and of heads of delegations of

many countries around the world.

Hearing

Nkosi Sikelel' iAfrika

in Kiswahili as

Mungu ibariki Afrika

was very moving.

Jakaya Kikwete

was beaming from ear to ear because it is the national anthem of Tanzania. In Zimbabwe it is also the national anthem titled,

Ishe Komborera Africa

; same story in Zambia )

Kudos!
As a Pan Africanist and Internationalist, I commend you for celebrating good neighbourliness, African unity and a spirit of international cooperation and global citizenship.
I am not too sure if

President Museveni

was

speaking for you and your deputy

when the Ugandan head of state thanked Kenyans for allegedly

"repulsing the blackmail of the international

community"

over the ICC matter.
In all your public pronouncements Mr. President, you have always pledged to cooperate with the International Criminal Court. Remember, the Rome Statute is embedded in our laws and today when you were making an oath to defend the constitution, you were basically reiterating that you will do everything to uphold the provisions of the Rome Statute as part of your commitment in keeping to Kenya's international legal and statutory obligations. Incidentally if you get a chance to talk to our jirani from the Banana Republic next door, please let him know that many of your compatriots are peeved at the snide remarks and derogatory attitude he displayed against Kenyans from the Pokot pastoralist minority community. This was his way of showing "gratitude" to an elected leader from that community who was at pains to show him courtesy and hospitality during his brief sojourn. Kweli wahenga hunena kwamba ahsante ya punda ni mateke!
In ending, Mr. President I would like to invite you to read a passage.
When I was a young person I was a very staunch Christian. I used to be the top Bible student when I was at the Mombasa Baptist High School from Form One to Form Four in the middle to late seventies.
At one point my sole ambition was to study theology and become a Bishop and move upwards from there. My mother was a Born Again adherent who was very active in the Anglican Church where my late grandfather was a Lay Preacher. I myself was a Sunday School teacher from the age of nine.
For some reason, I lost my religious faith along the way-that is a story for another day.
I subsequently became a Marxist-Leninist, commonly referred to as a Communist. Now, we Marxists tend to read a lot.
Some of the stuff we read is very interesting.
That is why I wanted you to take a look at this passage from the 18th Brumaire of Louis Napoleon written a long time ago by Karl Marx himself. Now, there are those who have asked if Karl Marx considered himself a Marxist, because he was after all, Marx. Or for that matter if Jesus Christ called himself a Christian, because, he was, come to think of it, Christ himself.
But that is beside the point.
Here is the passage I wanted you to look at in the next few days before the demands of that powerful office take away all your spare time:
Hegel remarks somewhere that all great world-historic facts and personages appear, so to speak, twice.
He forgot to add: the first time as tragedy, the second time as farce.




Caussidière for Danton, Louis Blanc for Robespierre, the Montagne of 1848 to 18512 for the Montagne of 1793 to 1795, the nephew for the uncle…




Men make their own history, but they do not make it as they please; they do not make it under self-selected circumstances, but under circumstances existing already, given and transmitted from the past. The tradition of all dead generations weighs like a nightmare on the brains of the living…




And just as they seem to be occupied with revolutionizing themselves and things, creating something that did not exist before, precisely in such epochs of revolutionary crisis they anxiously conjure up the spirits of the past to their service, borrowing from them names, battle slogans, and costumes in order to present this new scene in world history in time-honored disguise and borrowed language.




Thus Luther put on the mask of the Apostle Paul, the Revolution of 1789-1814 draped itself alternately in the guise of the Roman Republic and the Roman Empire, and the Revolution of 1848 knew nothing better to do than to parody, now 1789, now the revolutionary tradition of 1793-95. In like manner, the beginner who has learned a new language always translates it back into his mother tongue, but he assimilates the spirit of the new language and expresses himself freely in it only when he moves in it without recalling the old and when he forgets his native tongue…




But unheroic though bourgeois society is, it nevertheless needed heroism, sacrifice, terror, civil war, and national wars to bring it into being. And in the austere classical traditions of the Roman Republic the bourgeois gladiators found the ideals and the art forms, the self-deceptions, that they needed to conceal from themselves the bourgeois-limited content of their struggles and to keep their passion on the high plane of great historic tragedy. Similarly, at another stage of development a century earlier, Cromwell and the English people had borrowed from the Old Testament the speech, emotions, and illusions for their bourgeois revolution. When the real goal had been achieved and the bourgeois transformation of English society had been accomplished, Locke supplanted Habakkuk…




Thus the awakening of the dead in those revolutions served the purpose of glorifying the new struggles, not of parodying the old; of magnifying the given task in the imagination, not recoiling from its solution in reality; of finding once more the spirit of revolution, not making its ghost walk again.